on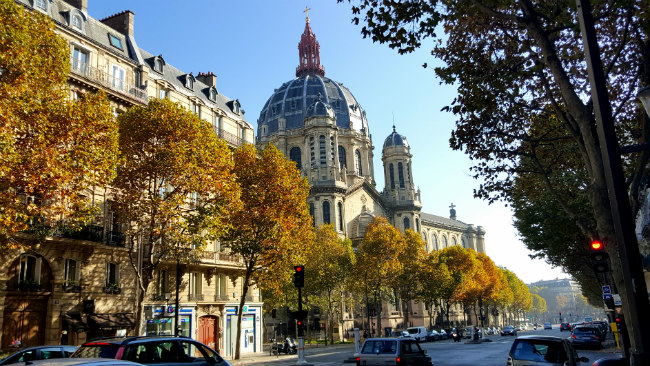 St Augustin Church - 8th
It's certainly no secret that my husband and I enjoy Paris. We have made several trips there to revisit and reacquaint ourselves with the city over the years. We enjoy ambling through side streets, ducking in passageways, stopping in a quiet spot to sit, reflect and admire the beauty of the City of Light, all the while attempting to discover more of its glory. We are the type of visitor who needs a bit more; we aim to look beyond the iconic Eiffel Tower to find an intimate setting that will leave an indelible impression on our hearts.
Just a few weeks ago, I rented a Parisian pied-à-terre in the 8th arrondissement on Rue de Laborde, near Boulevard Haussmann. It was a little hidden treasure, discreetly tucked away on a quiet street in a quaint garden courtyard – but situated just far enough away from tourist-filled streets and crowds.
Inside, there was the most inviting bank of nearly floor-to-ceiling windows – with perfectly south-facing views of rooftops gardens and Parisian streetscapes. After a busy day of exploring, my husband and I would enjoy a glass of wine and watch the golden glow of lights flickering-on in the neighboring buildings as the sun set. We felt like we were getting a peek into real Parisian life.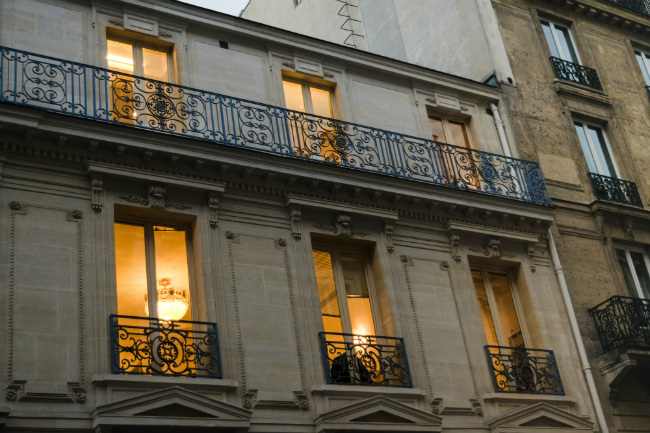 Truth is, there are many scattered hidden treasures in the 8th arrondissement; they range from little niches of solitude to serene retreats. It sometimes happens serendipitously – moments that takes you by complete surprise – moments that take your breath away…
It was a typical Paris day for me as I wandered through the streets and alleyways with no map or matter in mind as to what would be next on the itinerary. When suddenly I found myself at 46 Boulevard Malesherbes, site of the grand Église Saint-Augustin de Paris (Church of St. Augustine).
This grand Haussmann-designed Catholic Church is perched on a quiet secret in Paris; hence it seems to be forgotten by the crowds.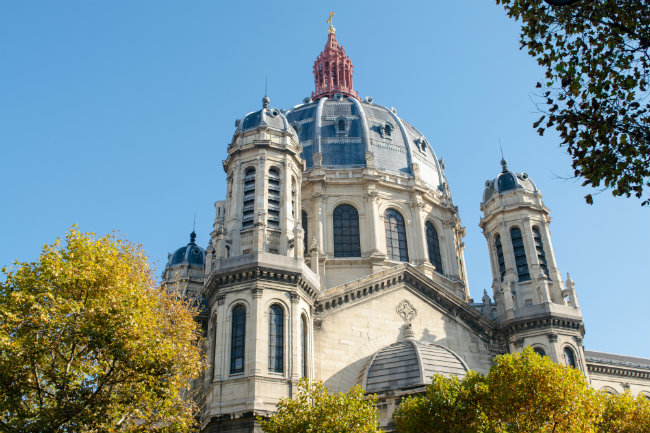 The Église Saint-Augustin Catholic Church can be seen all the way from the Arc de Triomphe– down Avenue de Friedland– and seems to call out like a beacon; "Come on in and savor the moment – enjoy my majestic surroundings." The red steel spire with its golden cross sits atop the slate blue steel dome – soaring 100m high in the sky. Inside, this Byzantine and Romanesque designed church gives an intimate feel. Neighborhood families quietly come and go, praying, lighting candles and elderly women faithfully pray with their rosaries. They have found their peace and comfort in this local church.
For me, it was drifting along softly and quietly, down the aisles, all the while admiring the stained glass, religious icons and soaring iron angels… when suddenly, I glanced into the chapel and realize I was about to witness a beautiful, and private baptism! What a glorious moment! This is what makes Paris special; you can stumble into beautiful moments and keep them secure in your memory and heart forever.
The
petit bébé
was delicately dressed in his long, white, flowing christening gown, tied with satin ribbons. The priest held him high for everyone to see, all the while offering blessings and prayers to the child and his family in affirmation. Family members snapped photos and basked in the scene. I glimpsed– and even felt a part of– this family's private ceremony.
To me, that is precisely what makes Paris so incredibly special: stumbling upon serendipitous moments that you'll always treasure. I don't think I will ever forget how truly magical that day was, and I feel thankful for the memory.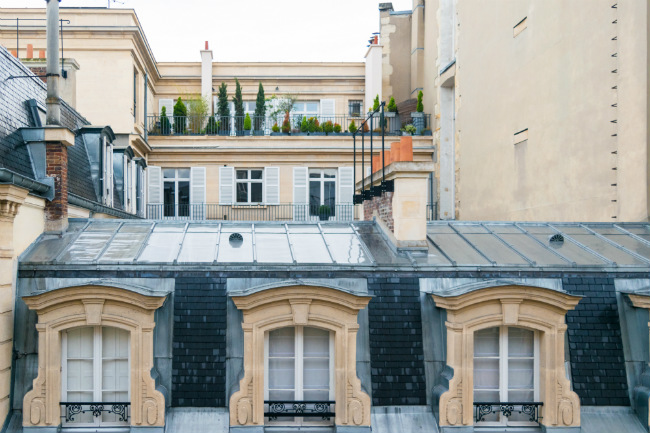 Article featured on Bonjour Paris -
http://bonjourparis.com
URL to article:
http://bonjourparis.com/serendipitous-discoveries-in-paris/
by J.Christina